Bhubaneswar: The SAI campus came alive with kids returning on Monday, February 28. The children from playgroup to class V were back to school, their second home, after a long gap of two years.
The laughter and the screams of children were once again heard at the SAI Angan premises. Principal Rashmi Pandey and the senior principal Nilakantha Panigrahi were also present at the gate to welcome the children.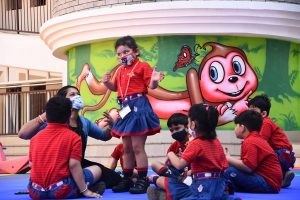 "It is a great day for all of us, as the children are always cared and adored in SAI and their coming back was a bliss. A lot of planning has been made to make the children feel at home, have fun activities to make them get together in the right spirit. Initial days would be fun and frolic, sharing of their activities at home during the Pandemic. Gradually learning will catch up to its normal course. I and my team are super excited," Principal Pandey was quoted as saying in a press release.
Following government guidelines, the school has taken major steps to keep every nook and corner of the school clean and germ-free. Wearing of masks, use of sanitisers and distancing were being strictly followed.
ALSO READ: SAI-Hosted Online Debate Competition Brings Together Best Talents From 10 Countries