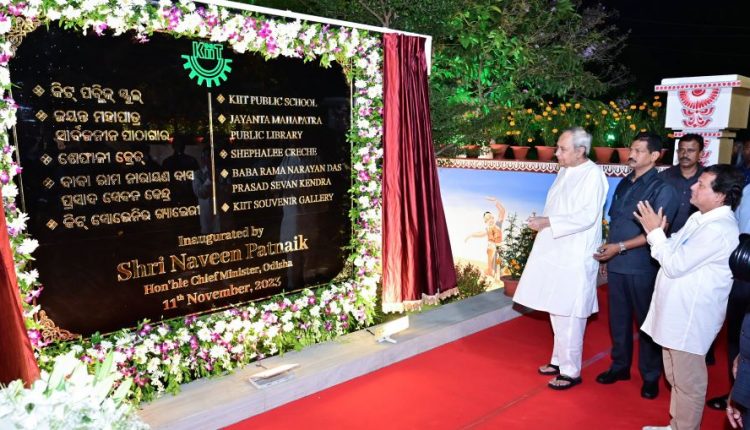 Bhubaneswar: Chief Minister Naveen Patnaik on Saturday inaugurated several facilities and centres for employees of KIIT-KISS and the public.
These include Shephalee Creche, KIIT Public School, Jayanta Mahapatra Public Library, Baba Ram Narayan Das Prasad Sevan Kendra and KIIT Souvenir Gallery.
KIIT-KISS Founder Dr Achyuta Samanta and President Saswati Bal, Founder President of Unit-1 Ram Temple Baba Ram Narayan Das and other senior functionaries of KIIT attended the inaugural function.
With Dr Samanta always given importance to the welfare of KIIT and KISS employees and staff, the various projects and programmes have been taken up for the benefit of employees and their families.
Admission to the public school will be for children of KIIT-KISS employees who earn less than Rs 30,000 per month. These employees can now provide English medium education to their kids under CBSE curriculum at KIIT Public School.
The airconditioned Jayanta Mahapatra Public Library, named after eminent bilingual Odia poet Padmashree Jayanta Mahapatra, has been established near KIIT Gundicha Temple.
Subsidised 'prasad sevan' will be available at KIIT Gundicha Temple complex for the benefit of patient attendants coming to Kalinga Institute of Medical Sciences. The 'prasad' will be available from KIIT Jagannath Temple for Rs 30 per person at the place named after spiritual leader Baba Narayan Das.
KIIT Souvenir Gallery offers a diverse range of unique souvenirs representing cultures worldwide, especially rich Odia handicrafts and KIIT University-branded merchandise for students, staff, alumni, and visitors.