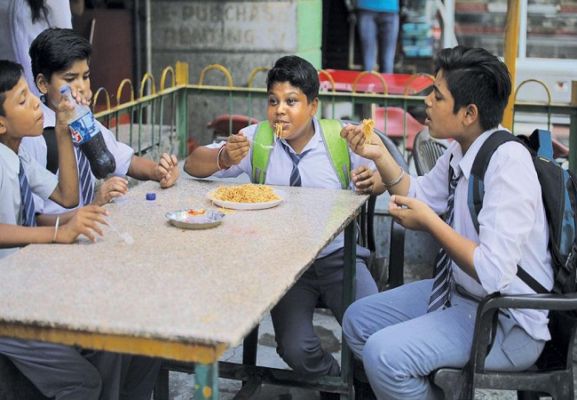 No Junk Food Within 50 Metres Of School Campus, Orders FSSAI
New Delhi: In bid to keep schoolchildren safe, the CEO of Food Safety and Standards Authority of India (FSSAI) Arun Singhal has banned sale of junk and unhealthy food items in and within 50 metres of any school/educational institute's campus.
FSSAI, in a first of its kind, has brought in the new principle regulation — under the Food Safety and Standard Act — which aims for a safe, healthy and nutritious diet for school goers.
"The idea is to provide safe food and balanced diet for children in schools. Foods which are referred to as foods high in fat, salt and sugar (HFSS) cannot be sold to schoolchildren in school canteens or mess premises or hostel kitchens or within 50 metres of the school campus," a senior FSSAI official was quoted as saying by ANI.
Following Delhi High Court's order to FSSAI in 2015 to regulate junk food in school canteens, experts committee was set up in order to serve healthy meals to schoolchildren by framing guidelines.
"Canteen, mess, kitchen operating in school should have a licence from FSSAI. Also, food business operators contracted by the department of education to function the Mid-Day Meal scheme must obtain a registration or licence from the apex food regulating agency and comply with the requirements of hygienic practices as specified under schedule 4 of the Food Safety and Standards Act."
The FSSAI official said municipal authorities and the state administration will regularly inspect the school premises to ensure safe and healthy food habits of the students.