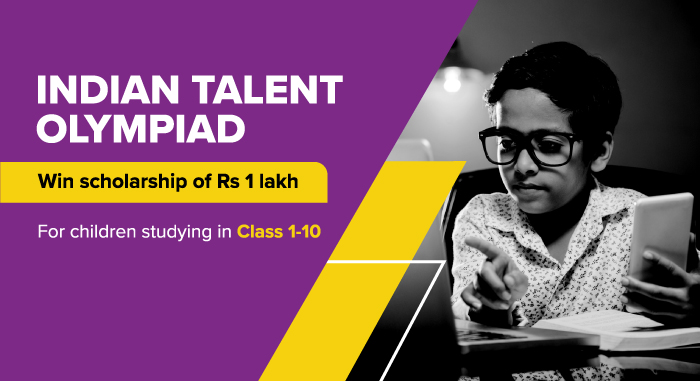 Online Indian Talent Olympiad: Know The Registration Schedule
Bhubaneswar: Children today have the capability to excel in various fields, all they need is proper guidance and encouragement. Challenges and tests further give them a boost in their morale and when they believe in their skills, the path to improvement becomes much easier and sought after.
Olympiads are singular-specific exams, available for a variety of subjects that students are interested in. These exams serve as a common base for students to show their skills, and in turn, be rewarded for it, it not only allows them to earn appreciation, and acknowledgment for their work but also better insight on their topic of work and proper feedback on supposed improvisations for them to work towards. The students are ranked based on fair common criteria, which helps to keep up with fair judgment, and a healthy sense of competition.
Indian Talent Olympiad caters to the generation of the young, striving to provide them with the best educational services. Believing in hard work and dedicated effort, every year the organization awards thousands of students based upon their merit. The resources provided for the students are prepared with the understanding of their classes, syllabus, knowledge and available resources. To keep encouraging the budding bright minds, the Indian Talent Olympiad holds these Olympiads for eight subjects, to cater to a variety of interests. A willing student can participate in one or more exams, based upon their interest, at minimal exam fees.
Olympiads are much sought after these days since there are various associated benefits to these exams, some of which are listed below:
These tests boost the student's morale and add to their confidence, encouraging them to strive for better learning.
The Olympiads serve to familiarize students with the exam environment. It helps them to prepare for possible future competitive exams.
The syllabus for all the Olympiads aligns with the academic syllabus of a student hence it benefits their understanding of a subject in turn helping in the academics.
It inculcates a habit of regular practice and revision, which too helps with academics.
The dedicated effort required for preparing for such exams, adds to one's mental ability and sharpens one's skills of logical reasoning, practical approach, and analysis.
It provides students exposure and inculcates a healthy sense of competition.
The detailed feedback report is provided to all students which helps them to understand and improve upon their weaknesses.
The certificates given to all students serve to acknowledge student's efforts and improve the impression upon their overall academics.
Apart from this, if put lightly Olympiads serve to bring out the best in a student and give them an edge above their peers. So if one wants to register for the Olympiad exams, The Olympiad registrations are now open for online registration. A few facts that one needs to know about the registration of the Olympiads are as follows:
The registrations for the exams begin at a cost as low as Rs 150 for willing individuals to apply.
Students can enroll via their school by speaking to their respective subject teachers or register individually on the official website.
The exams are conducted monthly as well as annually, a student can choose from either of the available options based upon their convenience.
The registration can be easily done at the official website of the Indian Talent Olympiad with the input of basic details.
The registration process is quite simple, in case anyone needs guidance, assistance ac be available as well.
The exams are held both offline as well as online media for schools, while individuals can opt to appear for the exam from the comfort of their home via and a digital device like a tablet, personal computer, mobile, laptop, etc.
 Registered individuals can avail free mock tests before the scheduled exam.
Online registrations for all the Olympiads are now open.
The last date of registration is as follows:
| | |
| --- | --- |
|    LAST DATE OF REGISTRATION FROM SCHOOL | September 30, 2021 |
|    LAST DATE OF REGISTRATION BY INDIVIDUAL STUDENTS | November 15, 2021 |
The exam eligibility is as follows:
| | |
| --- | --- |
| Olympiad | Eligibility |
| International Science Olympiad (ISO) | Students of Class I-X |
| International Maths Olympiad (IMO) | Students of Class Class I-X |
| English International Olympiad (EIO) | Students of Class I-X |
| General Knowledge International Olympiad (GKIO) | Students of Class I-X |
| International Computer Olympiad (ICO) | Students of Class I-X |
| International Drawing Olympiad (IDO) | Students of class I-X |
| National Essay Olympiad (NESO) | Students of Class I-X |
| National Social Studies Olympiad (NSSO) | Students of Class I-X |
Interested and eligible individuals can hence enroll for the exam. The students can partake in the test irrespective of their educational boards. The papers are set in the MCQ format, keeping the students' standards and a common syllabus in mind. A variety of resources are also made available for the students to help them keep up with their performance, these include mock tests, well structured and updated workbooks, previous year's question papers and others.
ITO(Indian Talent Olympiad) has been organising both online and offline Olympiads for over eight years and has worked with millions of students and more than 33,175 schools, trying to aid students. The organisation's effort has been praised by P.T. Usha, a well-known Indian Olympic athlete, a Padmashree awardee, and the head of the Indian Talent Olympiad advisory committee as well. Visit the official website to know more.
Besides it all, the organisation is proud of its winner's gallery and the plethora of exciting rewards awarded to students based upon their merit to encourage and acknowledge the efforts of these hardworking individuals and it looks forward to carrying on with the tradition of excellence. Warm regards and best of wishes from the team.
One can contact at 1800 266 9192,  or
Queries can also be mailed at: info@indiantalent.org ,for further support
ALSO READ : Delhi-Based Odia Boy Tops In International GK Olympiad