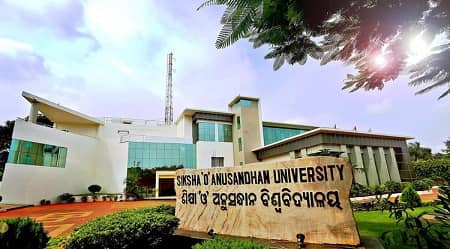 Researchers At Bhubaneswar's SOA Develop Innovative & Economical Formulations To Treat Chronic Medical Conditions
Bhubaneswar: Researchers at Siksha 'O' Anusandhan (SOA) here have developed simple, economical and innovative pharmaceutical formulations to treat various chronic medical conditions.
The Deemed to be University signed technology licensing agreement with National Research Development Corporation (NRDC) of the Ministry of Science & Technology for societal benefits.
The formulations developed are designed to treat dry eye and throat infections, and mitigate long-term adverse events associated with cancer treatment, informed Prof. Goutam Rath, Professor at the School of Pharmaceutical Sciences (SPS), SOA's faculty of pharmaceutical sciences, and leader of the research team.
The researchers at SOA-DBT BUILDER National Laboratory in SPS created an  innovative formulation for people using various eye drops which contained preservatives.
"The preservatives used actually lead to ocular discomfort or at times permanent visual deformities following prolonged use," Prof. Rath said.
"Our innovation offers a preservative-free long lasting artificial tear produce which would reduce the dose and toxic adverse effects of preservatives for long term use," he said, adding it would remain effective for a longer period and the user would not be required to use the drop frequently in a day.
"Generally, the ocular drops get wasted as hardly 10% of a drop is retained. But in this case, the formulation would create a film which would prevent any such loss," Prof. Rath said.
Pointing out that the gargle medicines presently being prescribed for throat infections had limited impact, for about 15 to 30 minutes, and require multiple use to alleviate discomfort, Prof. Rath informed the team had developed a mucoadhesive extended release gargle spray which offered long term effect of about four hours upon a single use.
The formulation will not only reduce the doses but also improve the drug efficacy.
The research team has also developed artificial saliva which can be of great help to cancer patients who are on chemotherapy. The therapy often made the patient's mouth to go dry as saliva dries up. A nanotechnology approach was used to prepare the fast-dissolving, mucoadhesive thin films which could hold water for long duration and treat inflammation, Prof. Rath said.
The research team included Prof. Goutam Ghosh, Prof. Dr Biswakanth Kar, Associate Prof. Dr Debasmita Dubey, Research Scientist Dr Vineet Kumar Rai, Project Scientist Deepak Pradhan, Senior Project Associate Dr Priyanka Dash, Assistant Prof. Dr Chandan Das, Assistant Prof. Jitu Haldar and Tushar Kanti Rajewar, both Junior Research Fellows, Ivy Saha and Ritu Mohanti, both Ph.D scholars.
SOA recently entered into a collaboration with Green Jeeva, a global e-commerce platform of natural products, to promote translational research from bench to bedside with focus on India-based manufacturing.
"Our team is continuously working in the area of drug delivery, probiotics, natural product, nanotechnology, pharmaceutical and food product development for providing safe, effective, stable and cost-effective technologies to the end user," Prof, Rath said.
SOA Vice-Chancellor Prof. Pradipta Kumar Nanda congratulated Dr Rath and his team for developing technologies which could ultimately serve the society. He emphasised the importance of technology transfer, innovation and inter-disciplinary research for developing technologies and transferring them to the industry.
The SOA Vice-Chancellor on Friday felicitated Prof. Rath at a function held in the university, and was attended by his team members, scientists, researchers, deans and senior officials.