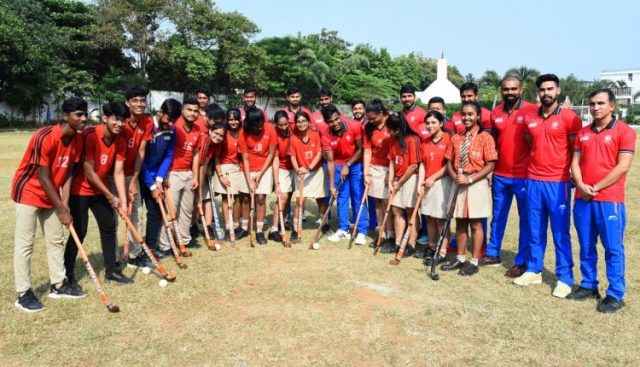 Bhubaneswar: SAI International hosted a gala event, on November 5, to warmly welcome the Indian Men's Hockey team. The SAIoneers rejoiced at the sight of the stalwarts of the Indian Hockey team on their campus.
The legendary players were welcomed with a dynamic dance performance put forth by the SAIoneers on the song 'Jai Ho,' which conveys the message 'Let victory prevail' in its true essence. The robust team of skilled players comprises proficient forwards, mid-fielders, defenders & goalkeepers like S.Karthi, Nilakanta Sharma, Amit Rohit Das, Abhishek, Sreejesh PR, Sanjay, Pawan, Mohd. Raheel Mouseen & Yashdeep Siwach, accompanied by their manager Anshuman Mishra.
Addressing the audience, Sreejesh Parattu Raveendran, goalkeeper, of the Indian Men's Hockey team, engaged in an amiable banter with the students to motivate them to devote at least half an hour a day towards sports. He further interacted with them by saying how players are not superhumans; however, what makes them superb is the relentless practice & dedication they exhibit towards their sport. The team praised the school's in-depth inclusion of sports in the curriculum which is essential for the growth and holistic development of children in today's times.
The team was delighted to see the welcoming response of the SAIoneers as they kept waving their flags with a strapping sense of pride. The gracious team members shared their expertise & skills with the students with some hands-on practice on the school field & appreciated the state-of-the-art sporting infrastructure of the school.
SAIoneers were thrilled to collect autographs & take snaps with the players. Apart from being extremely patient with the small kids, the immensely competent team did not shy away from joining the students for the 'Ashayein' song towards the end of the event.
Senior Principal, SAI International School, Nilakantha Panigrahi, welcomed the legendary players and addressed the gathering, saying, "SAI International is honoured to host the distinguished Indian Hockey Team Players at SAI International, where games and sport-based activities are a dominant part of the curriculum with an interest in providing a meaningful and culturally situated sporting experience to students. Sport in education is among the most popularly implemented and researched pedagogical models worldwide. Hosting such acclaimed players in the school motivates the students and aligns them with the sporting fraternity, thereby providing an array of exposure."
 Chairperson, SAI International Education Group, Dr Silpi Sahoo expressed her appreciation towards the adroit team. She said, "I'm highly obliged that the Hockey players of international fame agreed to address our students, I'm sure our SAIoneers will benefit from their words of wisdom & their pertinent expertise in hockey." Referring to the founder-Chairman, Dr Bijaya Kumar Sahoo, she continued, "Dr Bijaya Kumar Sahoo was an ardent lover of Sports & I'm elated to see his vision of making a Better India through Education being attained with the holistic development of the body, mind and spirit through the amalgamation of sports and education."