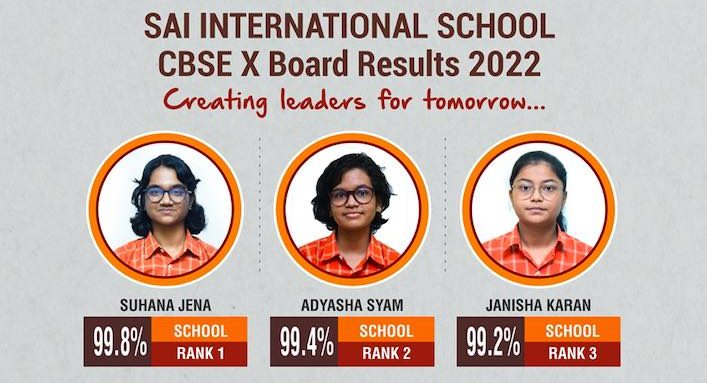 Bhubaneswar: Students of SAI International School at Chandrasekharpur in Bhubaneswar have once again made the school proud with their performance in the CBSE All India Senior School Certificate Examination (AISSCE), 2022, the result of which was declared on Friday.
In Class XII, Subhrasikha Pradhan, Kashish Agrawalla and Khushi Agrawalla topped the Commerce stream with 98.8% followed by Abhipsha Padhi and Sandhya Priyadarsini Pattanaik from Science Stream with 98.6% and Nerika Mishra from Humanities stream with 98.6%, who secured the second rank. Dipanshu Panda, Navneet Ray and Isha Saraf from the Science stream, Sneha Sucharita Palei from Commerce and Abhilipsa Priyadarshini Patra from Humanities came third with 98.4%.
A total of 490 students appeared for the Class XII examination and 100% secured more than 60%, 96.5% more than 75%, 52.9% more than 90% and 25% secured more than 95%. The school has been achieving 100% first division since its 1st batch of students appeared in the Class XII Board examination, a release said.
In Class X, Suhana Jena was the school topper with 99.8%, followed by Adyasha Syam with 99.4% while Janisha Karan stood third with 99.2%. 100% students scored above 60%, 95.1% above 75%, 53.2% of students scored above 90% and 23.1% above 95%, taking the school Average to 91.1%.
"I participate in state-level chess championships throughout the year, so it gets immensely tiresome to manage studies. Nevertheless, I worked hard and gave it my all, while preparing for the Boards. Referred to both the NCERT books and other problem-solving books to get acquainted with all sorts of questions. My mentors at SAI International have been extremely supportive of my inhibitions, both in chess and academics and I am extremely grateful to them for their constant encouragement," said Suhana.
While congratulating the students, Chairperson, SAI International, Silpi Sahoo said, "I am happy with the CBSE Class X Board results. My students have done very well with 99.8% as the highest and the school average of 91.1%. The outstanding result is an outcome of the hard work and sincerity of my SAIoneers and the strong bond between parents, teachers and the students".