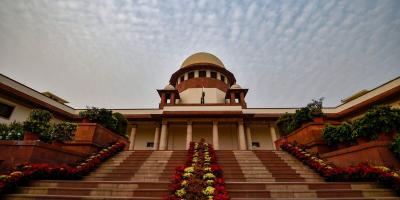 New Delhi: The Supreme Court ordered that 100 per cent fees shall be collected by the private unaided schools in Punjab during the COVID-19 pandemic. The order is in line with the top court's earlier order in Gandhi Sewa Sadan Rajsmand vs State of Rajasthan case last month.
Independent Schools Association Chandigarh filed a petition in the apex court against the State of Punjab regarding the payment of school fees during the pandemic period. Justice AM Khanwilkar and Justice Dinesh Maheshwari passed the order during the hearing of the case on Friday.
"The interim arrangements directed vide order dated 08.02.2021 passed in Gandhi Sewa's case (Supra) shalli apply to petitioner – Independent Schools Association Chandigarh (Regd.) in the state of Punjab as well," the Supreme Court order read.
Petitioners were represented by Advocates Avik Singh and Manohar Pratap and AOR Ajit Kumar Ekka. Advocates Neha Sahai Bharihoke and Siddhant Sharma and AOR Karan Bharihoke represented the respondents.
On February 9, the apex court had allowed private unaided schools in Rajasthan to collect 100 per cent school fees amid the COVID-19 pandemic, through six monthly instalments, from March 5, 2021 (Gandhi Sewa Sadan Rajsamand vs State of Rajasthan).
ALSO READ: Supreme Court: Private CBSE Schools In Rajasthan Can Collect Full Tuition Fee In Six Instalments