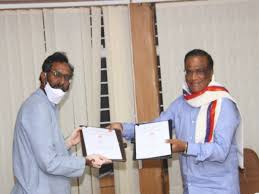 IIT Hyderabad Collaborates With Hyderabad University For Teaching & Research Activities
Hyderabad: Indian Institute of Technology (IIT) Hyderabad and the University of Hyderabad (UoH) signed a Memorandum of Understanding (MoU) that will help technical upliftment of both the institutes.
The two premier institutes joined hands to stimulate and facilitate the development of collaborative teaching and mutually beneficial research activities, reported Times Now.
Prof. BS Murty, IITH and Shri P Sardar Singh, Registrar, UoH in the presence of VC, UoH and officials from both the institutions signed the MoU to promote and enhance academic interaction between the universities.
The objective of the collaboration is two-fold. First, to share and implement best practices for enhancing the quality of teaching, learning and research processes and secondly to provide technical support to research scholars, faculty members and students in carrying out research work.
UoH Vice-Chancellor Prof. Appa Rao Podile expressing his delight, shared, "UoH seeks to achieve the highest levels of distinction in the discovery & transmission of knowledge and is committed to working with IITH to bring this knowledge to combat the great challenges of the society".
As part of the collaboration, both the institutes are contemplating conducting faculty development programs for the benefit of both the Institutions.
"In addition to this, undertaking collaborative R&D work/R&D Projects to having joint publications arising out of collaborative work, IITH and Hyderabad University have further plans," read the statement released by the IIT.